06 Feb

Building A Legacy For Dr. Azi

What can I say, not only was every stage of the journey SO incredibly exciting (and it has since, lead to other areas of the site – stay tuned for more), but Azi is a dream client to be working for!

Part of why the journey was been so rewarding is due to the absolute trust she had in my capabilities as a 'UXer'. With the boundaries undefined, it allowed not only for creativity to flow freely, but it actually also resulted in the project being completed dramatically faster, since there is a clearly defined vision and the freedom to run with it, as I saw fit based on my experience in the industry.

Azi came to me with a landing page for her Legacy Program that needed some, let's call it, cosmetic surgery, to help deliver the course details to her users in an easy-to-digest way, be visually appealing, as well as a good conversion percentage (number of signups per visitation to the site).

Her initial reaction to the site after the first presentation of the new design was…
I am literally crying this is so ridiculously good. You are a gift!
Let's dive into what the landing page looked like before the surgery and I will go step-by-step to identify the problem areas, with solutions from a UI/UX perspective that will not only improve the usability for the user, but also drive more conversions / signups to the program itself.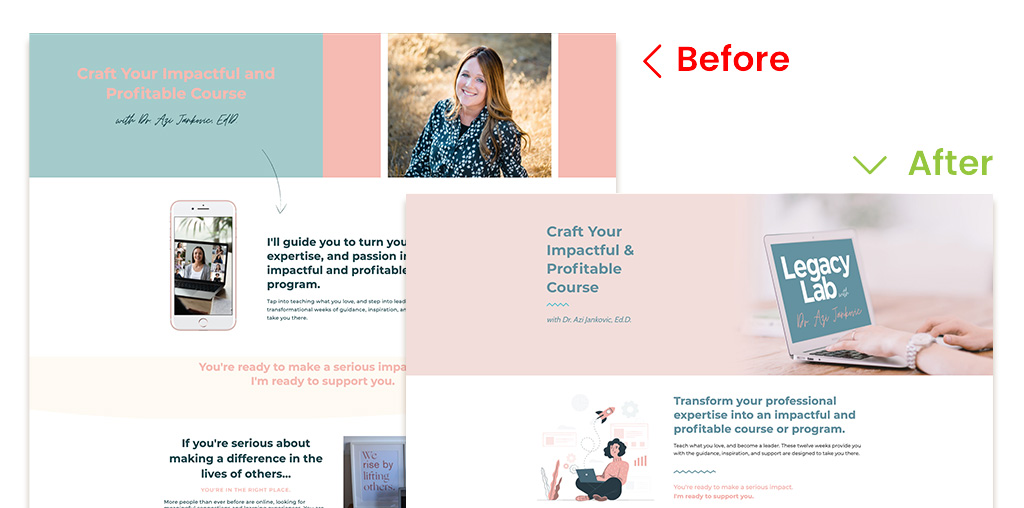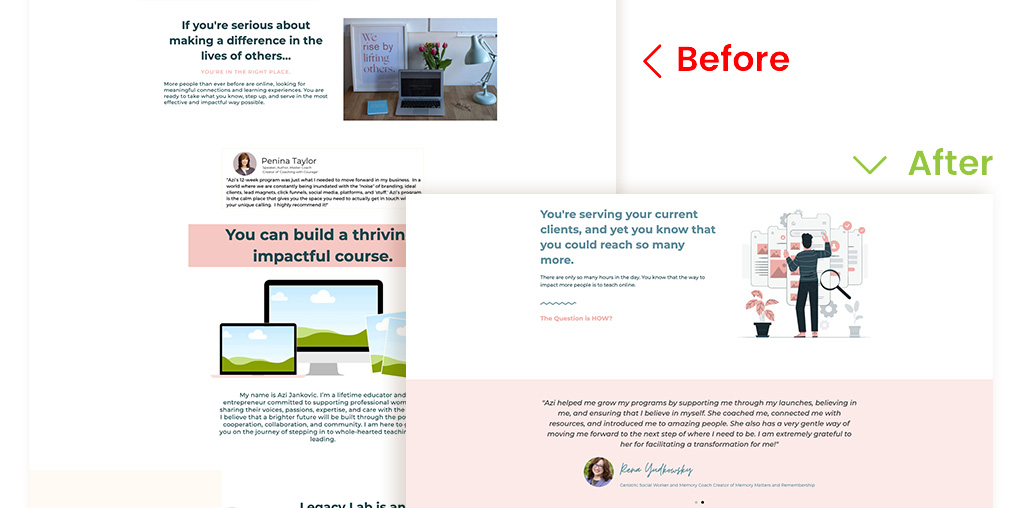 It is important to add, that while design improvements were made, namely, consistency with fonts, image style, colours and so forth, thought was given into how and what content was delivered to the user as they 'experienced' the page.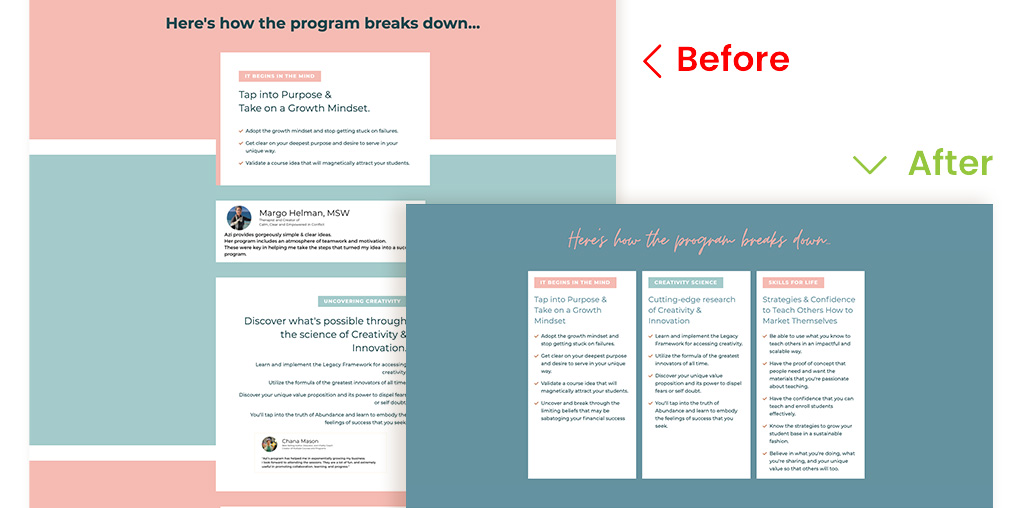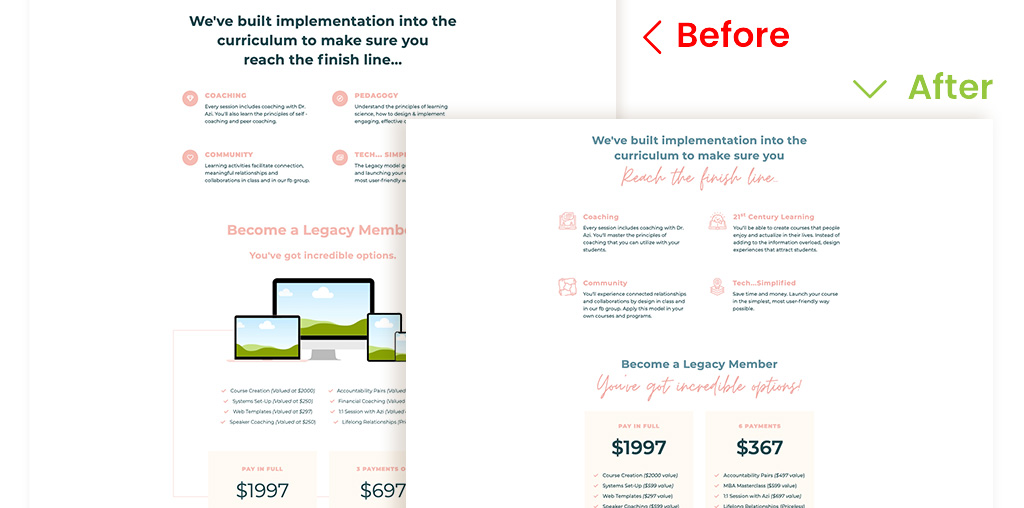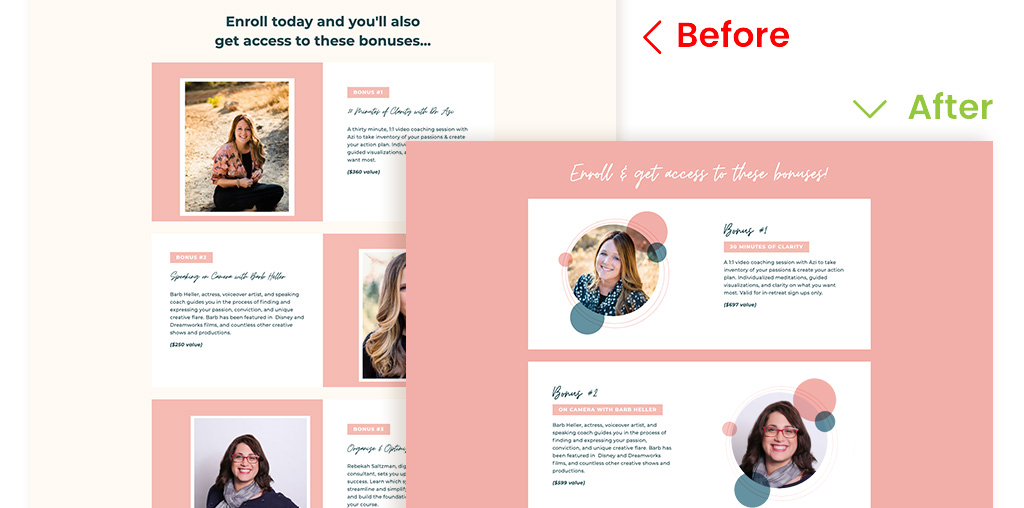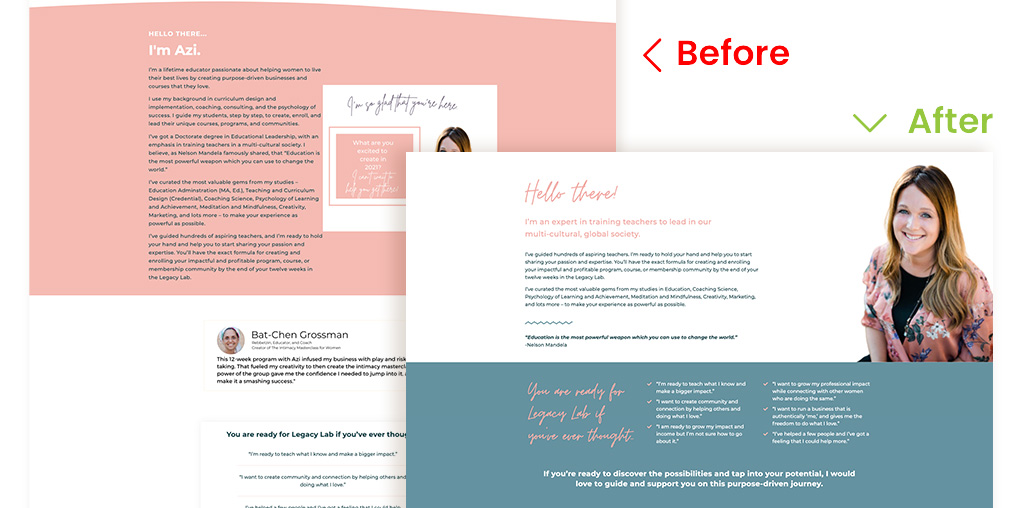 Design of a landing page should not be solely from the perspective of how it looks visually (styles, colors, fonts and so forth), but also how the user might interact with the design itself. This is at the very core of UX & UI design, whereby user research is undertaken before the pencil even hits the sketchbook.
Typical questions like "Who is the user?", "What is the demographic?", "Who is the perfect user to subscribe?" and others are questions that should be asked from the outset, because this is ultimately going to effect the design approach later on.
Break the content into digestable chunks with a logical flow that goes from briefly describing what is offered, followed by why it would be perfect for that intended user, then onto the highlights of the course or program and so forth.
Once this has all been taken into consideration it's finally time to start designing the page and adding that creative flare that will wow the user and give them no option but to register, or subscribe to the program.
With this being said, I work on projects like this day-in-day-out and have over a decades worth of experience working on landing pages and websites exactly like these.
If you would like to have an audit undertaken – book me for a 30 minute consultation to discuss how I can transform your website.